We are pleased to announce that our website now accepts SNAP benefits as payment for online orders of SNAP-eligible items. The Supplemental Nutrition Assistance Program (SNAP) is a federal program that provides nutrition benefits to supplement the food budget of needy families so they can purchase healthy food and move towards self-sufficiency.
If you have a valid Electronic Benefit Transfer (EBT) card, you can fully or partially pay with SNAP benefits for online orders from eligible retailers in select states. Please note that our website does not currently accept EBT cash as payment.
To use your EBT card for online purchases on our website, you will need to add your current and valid EBT card information on the checkout page. This will save your card to your profile for future use. For all purchases, you will also need to add a credit or debit card to cover any fees, taxes, delivery tips, or other non-SNAP-eligible items included in your order.
We are committed to expanding the number of states and retailers that accept online EBT payments on our website, and we will continue to update our customers as we do so. Please see below for Frequently Asked Questions.
Frequently Asked Questions
What items are SNAP-eligible?
The U.S. Department of Agriculture (USDA) determines SNAP eligibility. Items deemed SNAP eligible by the USDA may be purchased with your EBT card.
The USDA website lists the following food categories as SNAP-eligible:
Fruits and vegetables;
Meat, poultry, and fish;
Dairy products;
Breads and cereals;
Other foods such as snack foods and non-alcoholic beverages; and
Seeds and plants, which produce food for the household to eat.
The USDA lists the following categories as ineligible for SNAP benefits:
Beer, wine, liquor, cigarettes, or tobacco
Vitamins, medicines, and supplements. If an item has a Supplement Facts label, it is considered a supplement and is not eligible for SNAP purchase.
Live animals (except shellfish, fish removed from water, and animals slaughtered prior to pick-up from the store).
Foods that are hot at the point of sale
Pet foods
Cleaning supplies, paper products, and other household supplies.
Hygiene items, cosmetics
For more information on SNAP eligible items, please visit the USDA's website.
On Mercato, item eligibility is applied by each specific eligible merchant on the platform.
How do I identify SNAP-eligible items within a store?
SNAP-eligible items contain the SNAP label listed below on specific item cards on the store home pages, cart flyouts, and checkout carts:

What can I pay for with my SNAP benefits?
Eligible food item are available to be paid for with SNAP benefits.
Non-eligible food items, delivery fees, service fees, taxes, and tips are not eligible to be paid for with SNAP benefits.
Are all fulfillment methods available to SNAP users?
Yes. SNAP eligibility will not have an impact on the fulfillment methods available to customers.
How do I pay with my EBT card to complete a purchase?
When a customer navigates to the checkout page and one or more items in the customer's cart are SNAP-eligible, a link to "Add EBT SNAP card" will be visible under the credit and debit card inputs: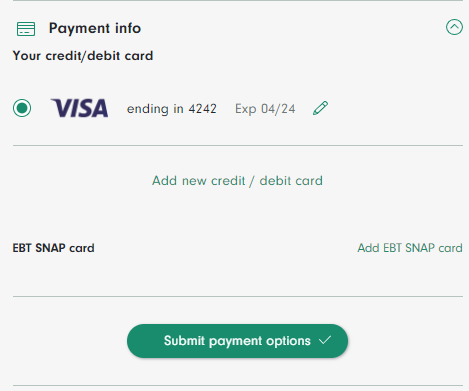 Upon clicking "Add EBT SNAP card," users will be prompted to enter their active, current, eligible card number and click the "Save" button: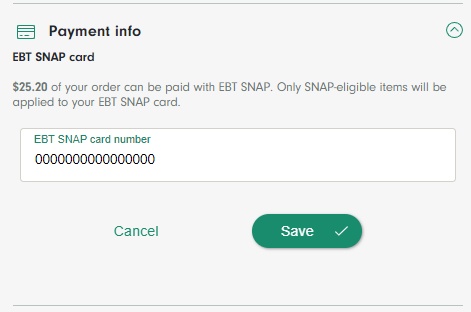 Once this EBT SNAP card has been successfully saved, the system will default to adding the entire SNAP-eligible amount from the order to this card. If customers would like to modify the amount of SNAP benefits being applied to an order, it can be accomplished by following the steps in the next section below.
Once the desired EBT SNAP amount has been applied to the order, users can click the "Submit payment options" button to submit the payment allocation: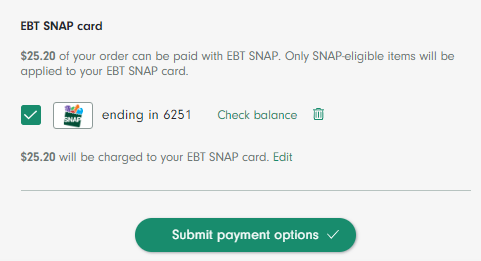 Can I pay partially with EBT SNAP?
Yes, SNAP-eligible items can be paid for partially with SNAP benefits and partially with another eligible payment method. Customers are able to choose the amount of SNAP benefits they would like to apply to their SNAP-eligible cart amount at checkout.
Within the "Payment info" section at checkout, customers can click the "Edit" button next to the dollar amount that is listed as currently set to be applied to the order: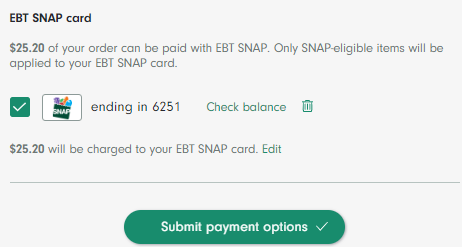 Once the amount is updated, customers can click "Apply to order" to save this updated SNAP amount for the order transaction: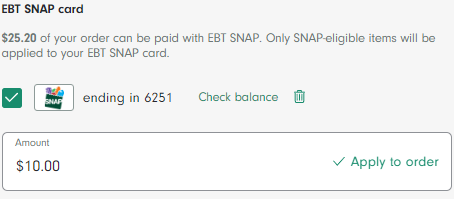 Will I receive a breakdown of the SNAP benefits I used on my orders?
Yes, a detailed breakdown of your order that includes SNAP amount applied as well as your remaining SNAP balance can be found on:
the Thank you page that you are directed to after placing your order
the confirmation email that is sent to your email account after the order is placed
the "Your orders" view within your Mercato account page.
How can I get refunded for a missing or damaged item that was paid for with SNAP benefits?
If an item from your order is damaged, missing or expired, please check the final bill to confirm you were charged. If the final bill shows $0.00 for the item, or if it is marked as canceled, the product was likely out of stock and canceled by the store. If you were charged for a missing, damaged, or expired item, click here to request a refund. You will receive a response within 48 hours. Once the Mercato team confirms and processes the refund, the SNAP amount applied to the items or order will be immediately refunded to your EBT card.
Note: you must submit a photo as proof of damaged, expired, and incorrect items as part of your refund request.